hey my lovelies,
VENICE It's just the beginning or ending of half of the year and if you are thinking of taking a trip, this is the right place 'wait why i'm advertising? hahahahah i'm just kidding.
My lovelies, let's do this and explore the land of Venice "yay"
Venice is a city in northeastern Italy and the capital of the Veneto region. It is situated across a group of 118 small islands that are separated by canals and linked by bridges, of which there are 400. The islands are located in the shallow Venetian Lagoon, an enclosed bay that lies between the mouths of the Po and the Piave rivers.
WHAT VENICE IS FAMOUS FOR
Venice has been known as the;
"La Dominante,"
"Serenissima,"
"Queen of the Adriatic,"
"City of Water,"
"City of Masks,"
"City of Bridges,"
"The Floating City," and
"City of Canals."
This made Venice a wealthy city throughout most of its history.
VENICE GRAND CANAL
The Grand Canal is a canal in Venice, Italy. It forms one of the major water-traffic corridors in the city.
Public transport is provided by water buses and private water taxis. As well, many tourists explore the canal by gondola. One end of the canal leads into the lagoon near the Santa Lucia
CAPE CHAMELEON
VENICE BEACH
SOME OF THE BEST RESORTS IN VENICE
JW MARRIOT VENICE RESORT & SPA
It is a 5-star luxury hotel boasts a breathtaking location on Isola delle Rose, a private island located in Venice, Italy and near top attractions like St. Mark's Square.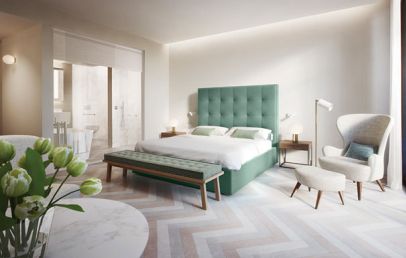 Whether you're traveling here on a honeymoon or on a family vacation, you'll be enchanted by the spectacular grounds, which boast stunning views of the lagoon and meticulously maintained gardens and olive groves.
HILTON MOLINO STUCKY
Set on the peaceful banks of Giudecca Island, the Hilton Molino Stucky is a former flour mill refurbished to become a unique hotel. it is a 6-minute walk from the nearest vaporetto stop and a 12-minute walk from the Peggy Guggenheim Collection. It's 2.5 km from Rialto Bridge.
Sophisticated rooms feature Wi-Fi (fee) and flat-screen TVs; some have Venice views. Upgraded options offer access to an executive lounge; suites add living rooms, marble bathrooms and dining rooms. Room service is available.
Breakfast (fee) is offered in 1 of 4 restaurants. There's also a swanky rooftop bar and a relaxed lounge. Other amenities include a rooftop pool (seasonal), a spa and a gym. An area shuttle boat is available.
HOTEL AI REALI DI VENEZIA
A luxury stay in the heart of Venice awaits you at Hotel Ai Reali di Venezia. Within steps you'll find Rialto Bridge and St. Mark's Basilica within a 10-minute stroll.
This slideshow requires JavaScript.
This family-friendly Venice hotel is located in the historical district, just steps from Grand Canal and Rialto Bridge
BELMOND HOTEL CIPRIANI
Among Venice hotels, Belmond Hotel Cipriani exudes an unapologetic grandeur that's hard to emulate. Step onto the private dock and into another world.
A 15-minute stroll from Piazza San Marco, this lavish, landmark hotel is also 13 minutes by foot from St. Mark's Basilica. 
Elegant rooms with garden or lagoon views, offer flat-screens and free Wi-Fi, plus iPod docks and minibars; some have balconies or kitchenettes. Suites add plush seating areas or lounges, and hints including poolside views, antique artworks or terraces with hot tubs. Room service is available.
Free perks include breakfast and a local area shuttle boat. There's also a refined restaurant, a waterfront bistro and a chic bar, in addition to an Olympic-sized outdoor pool, a spa and tennis courts. Closed November to March.
AMAN VENICE
Aman Venicde is a luxury hotel in the regal 16th-century Papadopoli palazzo, Italy with Old Master frescoes & private gardens set on the Grand Canal.
Beside the Grand Canal in a 16th-century palace, this elegant hotel is a 2-minute walk from both a vaporetto stop and the Piazza San Marco.
Sleek rooms feature free Wi-Fi and flat-screens, plus sitting areas with sofas and garden views. Polished upgraded rooms add varying touches like frescoed ceilings, fireplaces, original art and/or canal views, while suites have separate living areas. Room service is offered.

Amenities include 2 posh restaurants (1 with ceiling murals, the other with terrace dining) and an elegant bar. There's also a gym, a hot tub and a spa, as well as a grand ballroom, a refined lounge with a piano, and a garden.
TOP ATTRACTIONS IN VENICE
Legendary Venice St. mark's basilica and doge's palace
Guarantee your entry into two of Venice's star attractions on a skip-the-line tour of Doge's Palace (Palazzo Ducale) and St. Mark's Basilica (Basilica of San Marco)
Murano Glass and Burano Lace Tour
The islands of Murano and Burano, with their artisan glass and lace workshops, are just a ferry ride from Venice, On this tour, delve into the practice and history of two of Venice's great artisan traditions by visiting glassblowers in Murano and traditional lace-making workshops in lesser-known Burano
Venice food tour Cicchetti and wine
the best food Venice has to offer on this culinary walking tour, which provides a great cultural introduction for first-time visitors.
Venice Gondola ride Serenade
Soak up the romance of Venice on a shared gondola ride through the Grand Canal and the city's.
So my lovelies, i hope you enjoyed your travel through Venice. Comment down below what you love most about this Venice.
Images are not mine. Thanks to all these Amazing photographers for making it available and thanks to TRIP Advisor for there amazing info.
until next time…